Factory Directly Supply Tray Dryer, Fruit Drying Machine Ot-C-2
Overall Dimension (mm):
2300*1200*2000mm
Application:
Fruits Vegetable Food Drying Machine
Materials:
Stainless Steel
After-Sales Service Provided:
Engineers Available to Service Machinery Overseas
Delivery Date:
1-3 Days After Order Confirmation
Transport Package:
Zhengzhou, China
Origin:
Export Standard Packing by Wooden Case
About  Factory directly supply  Tray Dryer,fruit  drying machine OT-C-2    
      Vacuum dryer is to let the raw material be dried at vacuum condition heating and drying. It uses vacuum pump to damp and make the working chamber form vacuum status. Therefore the dry speed is quickened and the working efficiency is raised.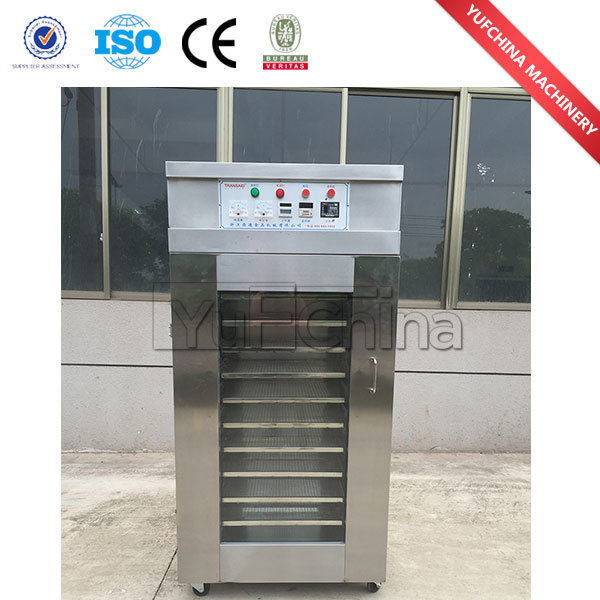 Application
It is suitable for drying raw materials of pharmaceutical industry, chemical industry, foodstuff industry, electronics industry, Chinese traditional medicine industry and so on.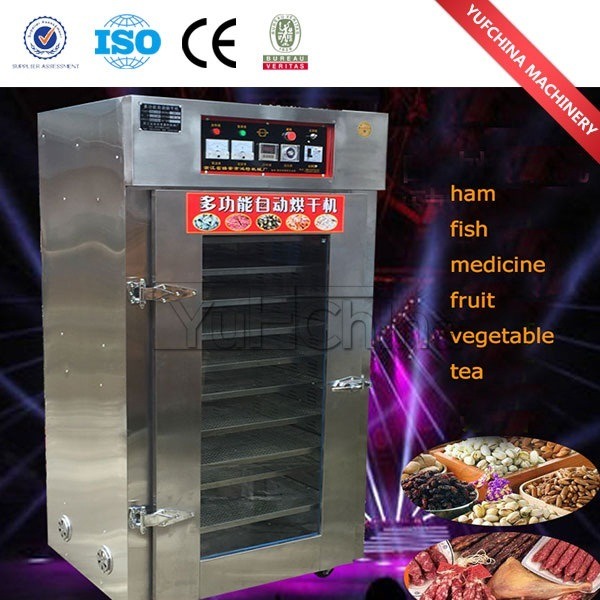 Features
1. The higher dry speed can be achieved at lower temperature and the heating can be utilized fully.
2. Unstable or thermal sensitive raw materials can be dried at lower temperature.
3. Raw materials that contain solvent or the solvent to be recovered can be dried.
4. The treatment of disinfection can be implemented before drying. Any impurities can not be mixed into it during the period of drying.
5. The drier belongs to static vacuum one. Therefore the shape of raw material to be dried can not be damaged.
Brief Introduction
1.most of the hot air can cycle inside the machine , high thermal efficiency ,energy saving.
2.there are some adjustable wind plate inside the machine , which can ensure the material uniform drying.
3.the heat sauce can be gas , electric , hot water , Far infrared etc, very convenient.
4.automatic temperature control,good running balance ,low noise and easy to use and maintain.
5.widely used for fruit,apple slice,vegetable,sea cucumber,fish products,herb, agricultural products, instant foods,mushroom etc.
6.The inside of the material is stainless steel , outside use the steel plate as the material
7.The thermal insulation system layer thickness is 150mm, we use the White aluminum silicate  as the thermal insulation material.
8.the temperature of the machine outer wall is less than 50 degree.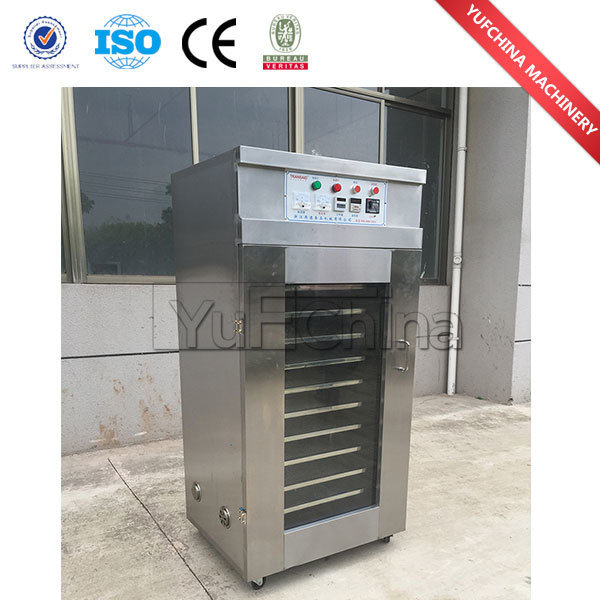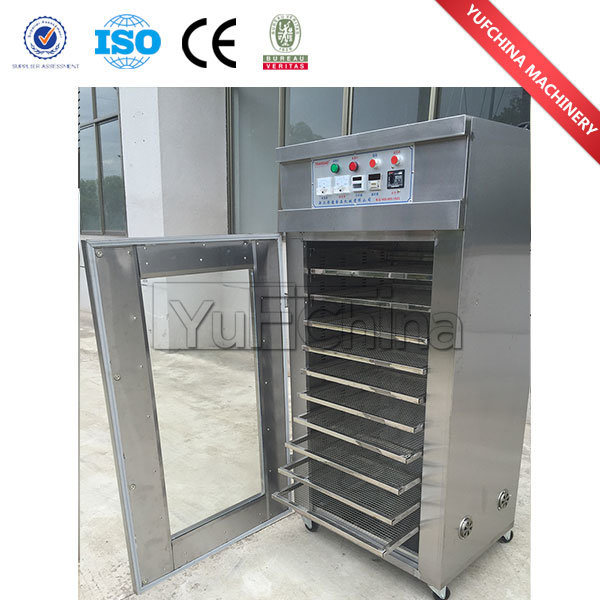 Parameter:
model
batch drying capacity (kg)
motor power (kw)
EleOTric heating power
(kw)
Heater area (m2)
Overall Dimension
(mm)
Bake cars
Weight
(kg)
OT-C-0
30
0.45
9
10
1400×1200×1700
0
600
OT-C-1
60
0.45
12
15
1400×1200×2000
1
800
OT-C-2
100
0.45
15
20
2300×1200×2000
2
1400
OT-C-3
200
0.9
30
40
2300×2200×2000
4
1800
OT-C-4
300
1.35
45
80
2300×3200×2000
6
2300
OT-C-5
400
1.8
60
100
4460×2200×2000
8
2800
Our service:
Pre-sale
Depending on customer's requirement, we insist on "making profit at lowest investment" and gives best solution as per the customer's special demand.
During-sale
Manufacturing products strictly on contract while customer constructing.
Production progress report each week with detailed description and photos, including with raw materials tables, process and deep process record, testing data sheet, etc
Testing all the equipment by witness of the customer ex-work, delivery, customer acceptance.
After-sale
1. Regularly return visit to the customers.
2.Within 1 year warrant period, we take charge of everything if any quality problems. After the warrant period, we still focus on the plant running and services.
3.Response customer's questions within 1 working day, give effective solutions within 3 working days, go into action with 5 working day.
       That's our promise, as we know quality and service both more important for long-terms development and cooperation.
 
Kindly contact us at any time as below,We will reply you within 24hour.
 
Tel:+86-371-60395600
Fax:+86-371-67681159
Add: Gongye Road, Shangjie District, Zhengzhou City, China
Calstar® Solvent Recovery Machine Recyclable: washing solvent, acetic acid esters, halogenated hydrocarbons, three ethyl chloride, trichloroethylene, solvent oil, isopropyl alcohol, acetone, butanone and cyclohexanone, days that water, wash water gun, banana water, plate washer water, wash water network, wash water, white oil, hand washing water, diluent, washing water, ink cleaning agent, ethyl acetate, toluene, xylene, toluene three, four toluene, banana water, alcohol, ethanol, butanol, two glycol solvent waste and dirty etc..
Calstar® solvent Recovery Machine using the distillation principle: by heating the evaporation of solvent into a gaseous state, the steam into the cooling system to flow out, so that the recovery of organic solvents. So as to make the waste, dirty, old organic solvent recycling, recycling and reuse. Both can save a lot of procurement costs, but also to reduce the pollution of the environment.
Cleaning Agent Recovery Machine,Recyclable solvent,Recoverable solvent species

Methanol Recycling Machine,Methyl Chloride Recycling Machine,Tetramethylbenzene Recycling Machine,Methylene Chloride Recycling Machine,Methanol Recovery
SHENZHEN KUANBAO ENVIRONMENTAL EQUIPMENT CO., LTD , https://www.calstarkb.com